Collection: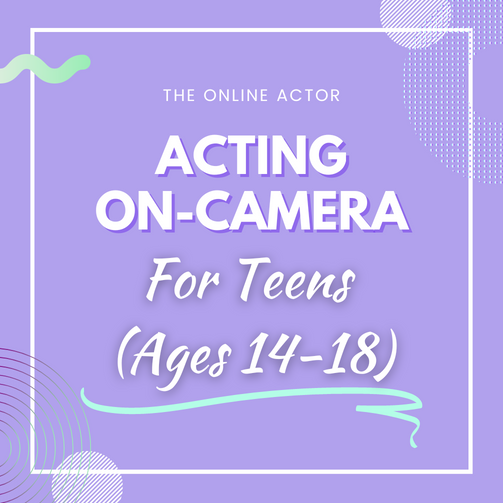 Collection:
Acting On-Camera for Teens (ages 14-18)
Acting On-Camera for Teens (ages 14-18)
Regular price

$99.00

Sale price

$69.00
Acting On-Camera for Teens is an affordable and accessible online acting class for teens ages 14-18. 

Whether you're already committed to acting as a career pursuit, or you're just curious about acting, this class is designed to get you learning our unique and naturalistic approach to on-camera work, opening up, playing with other teen actors, diving deeper into characters and scripts, and having fun! 

It's a combined-level class, designating actors from levels 1 to 10. New actors would start at level 1, and very experienced actors may start between levels 4-6. Each level is 4 classes. The first session costs $69 USD while each session afterward would be $49 USD (as of July 2023).

Please note: Those under 18 must have parent/guardian consent to participate.
Next class date:
Saturday, October 28th @ 2pm EDT / 11am PDT / 6pm GMT

Each actor is given material suitable for their current experience and skill level with a focus on being spontaneous on-camera and having fun in performance. See Our Training Philosophy page for more details.

This class is offered once every several weeks. You can join at any time and simply complete 4 classes in a row to move to the next level. Please email studio@theonlineactor.com to inquire about future sessions.
To sign up for this class simply click ADD TO CART and complete the checkout. You'll receive an email confirming enrolment as well as the date/time and Zoom meeting link. Email us at info@theonlineactor.com with any questions.
Among many other concepts, you'll learn foundational acting skills, audition/self-taping technique, scene study, and skills that translate directly to film sets. You'll work on complexity in your acting to be able to play in any genre, from Marvel movies to shows like Euphoria. You'll explore differences in tone and style between projects from Disney Channel to The CW Network!
Actors will be paired together based on experience level and time zone. Following your purchase, the session will be scheduled around the availability of the actors and coach.