Collection: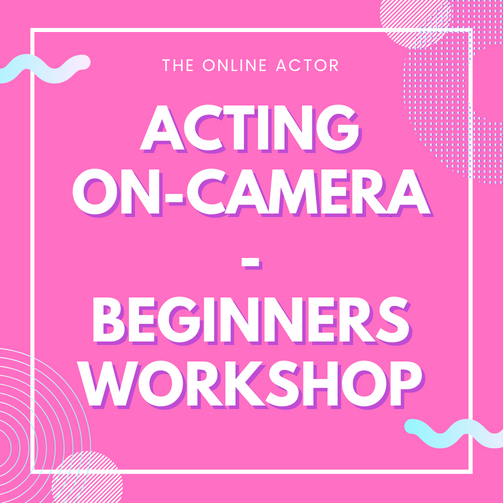 Collection:
Acting On-Camera | Beginners Workshop
Acting On-Camera | Beginners Workshop
Regular price

$150.00

Sale price

$99.00
Our Acting On-Camera | Beginners Workshop is an affordable and accessible single session online acting workshop for adult actors with varying experience levels: either completely new to acting, with some light past training, or with prior experience acting on stage (but not on-camera).

Whether you're already committed to acting as a career pursuit, or just curious about acting, this class is designed to get you learning the fundamentals of our unique and naturalistic approach to on-camera work, opening up, and having fun!
Next workshops: 
Friday, January 19th @ 5pm Eastern / 1pm Pacific

December workshops are currently full! Please email to be on standby.

Additional dates are added regularly. The frequency of this workshop is typically 2 times per month.

*Note: dates are subject to change. If a session is sold out, please email info@theonlineactor.com to be placed on standby.* If someone cancels or reschedules before the class date, actors on standby can gain entry to the session.
If you have more prior training or experience (2-3 other classes, a demo reel, or several strong self-tapes), you may be eligible to purchase one class credit and join our Acting On-Camera | Foundations ongoing classes (the program above beginners). Please email info@theonlineactor.com to inquire about this!
It's perfectly normal and advisable to start in this workshop if you're revisiting acting after an extended period of time off, or if you're unsure of where you'd fit in the training. It's very camera focused, and the coach keeps in mind past training and experience, so you'll be appropriately challenged if you need it.

More info:
Acting On-Camera | Beginners is a workshop that introduces the basic concepts of performing using our original approach to on-camera acting, as well as paired & individual on-camera coaching, using short scenes. 
We cover our practical approach to memorizing, comprehending, and interpreting scenes. Then, we dive into how you overlap with character, getting out of your comfort zone, and performing on-camera!
This workshop is approximately 4 hours long in an online live-video format on Zoom, with adult actors (18-60+). 
See our class schedule page for more details.

To sign up for this class simply click ADD TO CART for your selected date and complete the checkout. You'll receive an email confirming your enrolment. If the workshop date has not been announced yet, we will be in contact via email once the session is scheduled.
Please email info@theonlineactor.com for more information.